I work part time with a landscaper, and we have to tackle some fierce plants some days. One house we maintain has so many agave and cactus, I come home covered in puncture wounds and live in fear of loosing an eye. After a couple days trying to weed blindly with my hat pulled down over my eyes, I said, "Screw it, its goggles time."
I am almost impervious to spikes, now. I may invest in some hockey shin guards, though...(this place really is a gardener's Obstacle Course of Doom.)
Dropping by to show off my favorite goggles in action.
Current Mood:

amused
MASQ Fashion
shop for a week marked with "steampunk" is 20% off! (also custom items-any size) Search:steampunk !!!
http://www.etsy.com/shop/masque242
Coupon code: STEAMPUNK20SALE (at chechout)
Everything in
Wasn't sure if destash posts like this might be allowed. Feel free to trounce me if they're not.
My costume boxes are overflowing, and so I am here with a few skirts and a blouse that I thought you guys might be able to have fun with and work into an outfit or something.
Pardon the quality of the pictures, the lighting in my apartment is terrible.
Never-worn periwinkle blue cotton peasant blouse with a drawstring waist. It's so soft and silky, I love it but it's just too big for me. Size large. 8$
(
Read more...
Collapse
)
Hi all.
Current Mood:

chipper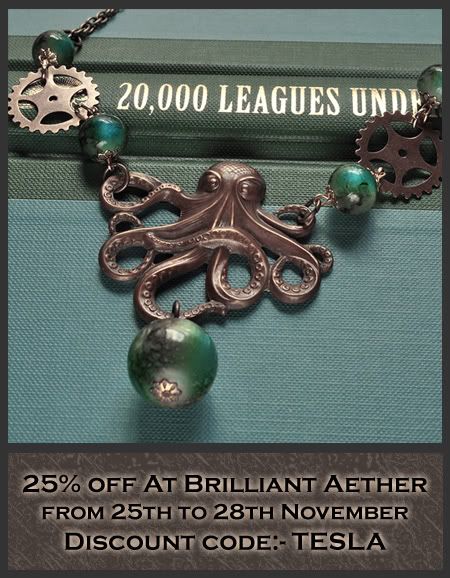 Darlings, this will be the last official sale at Brilliant Aether before Christmas, so if there is anything in the shop you love or want to buy as a gift, now is the time – at a massive 25% discount! Simply type the voucher code TESLA into the voucher code box in your shopping cart, click to verify and voila! Voucher offer is valid until Monday 28th November.
By the way,this may be the last official sale but there are often giveaways and spontaneous secret specials going on on our Facebook Page... just saying!
There are some unique and opulent new beauties up for grabs at Brilliant Aether right now. Salvaged brass, glass, haematite and blue goldstone await your pleasure!
And don't forget to check Brilliant Aether's Facebook page for news on availability, and keep up with my latest creations, spontaneous giveaways and secret specials...

Like our Facebook page here
This 1930s edition of Gatehouse Gazette
has a lot of dirt and grit in it, from crickey, secret Nazi stuff to Russian dieselpunk, but it also features the elegance of the interwar period with Art Deco, radio and fashion.
Download it for free here.
For all previous editions,
click here
.
For those interested, we are always on the look-out for new contributors and for photo and art submissions.
If you wish to participate, please drop our editor, Nick Ottens a line on n dot ottens at gmail dot com
Happy reading!
Current Location:

Hallaar, Belgium

Current Mood:

chipper

Current Music:

Abney Park "Neobedouin"